Thank you for visiting Trinity Retrievers.  We are thrilled to show you our furry family and share some of the many blessings we have received over the past twenty-eight years. 
Our home is located in the beautiful Tennessee countryside, just outside of Knoxville. We have been hobby show breeders for the past 29 years, with a dedication and passion for preserving the wonderful temperament, and versatility that is the hallmark of a Retriever. We compete primarily in AKC conformation events, but are proud to have bred dogs that do it all.  
Our Labradors are our love and our hobby.
We feel there is an art to producing a special litter. Every breeding is planned with a goal and purpose. Our litters are thought through with the research of pedigrees as we choose the stud dog who will best compliment our girl. We strive to produce healthy retrievers that are expressive and intelligent. We also want our dogs to be strong retrievers with the beauty of correct conformation. Most of all we want our retrievers to portray the sweet loving temperaments that they are well known for.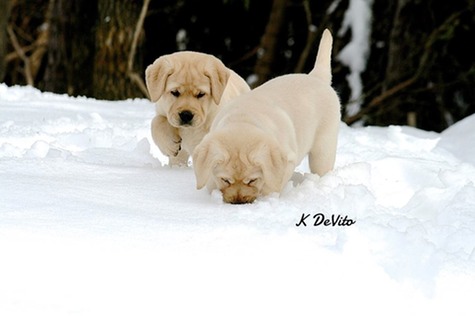 Trinity Labradors began in 1991 and has had many wonderful accomplishments through the years.  We have a passion and love for the English type and we strive to produce healthy Labs. We also want our Labs to be strong retrievers with the beauty of correct conformation and loving temperaments.
Ed and Kathy Gleason are in partnership with Kathy's daughter Kristin DeVito. Kristin lives in Columbia SC  where she works as a Physican Assistant. Kristin has been showing dogs since she was eight years old. She is an excellent handler of  both Labradors and Goldens.